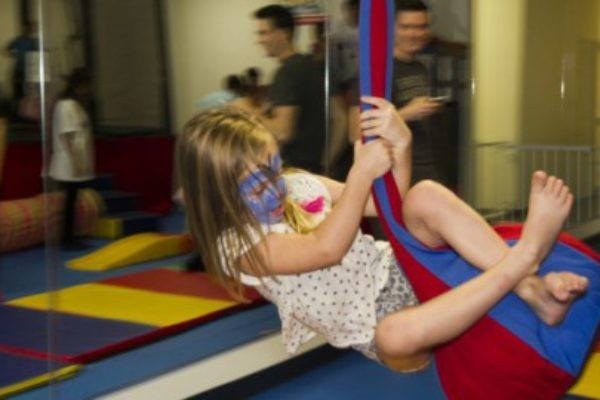 Finally a Place Where You Never Have to Say I'm Sorry is Not Just a Slogan!
January 11,2021
At We Rock The Spectrum Kid's Gym, the slogan of "Finally a Place Where You Never Have to Say I'm Sorry" is not just a slogan, but words the staff lives by to create their culture and environment around. As the best kids fitness gym in the area their facility is full of awesome equipment for climbing, running, jumping, lifting, pulling and pushing to help develop the larger muscle groups of children who frequent their gym. But they don't stop there they also have plenty of stuff to help with problem solving, social development, sensory skills, find motor skills, and creativity. All of this is achieved through a gym that is full of equipment, toys, an arts and crafts area, and the highly attentive and motivated staff that prides themselves on providing an all inclusive environment.
By creating an environment that stands up and lives by their slogan the We Rock The Spectrum Kid's Gym staff offers developmental opportunities for children of all ability levels. If you are a parent who has a special needs child, this is the place to go, they specialize in helping special needs children be able to develop and grow through the use of their sensory, strength building, creative, and other equipment and programs. If you happen to be a parent that has both a special needs child and one that is normally developing, the staff is poised and ready to help with both children. Their all inclusive philosophy allows all children, regardless of ability level, to be able to play, grow, develop and have fun together.
Never having to say "I'm Sorry" is so important to the team at We Rock The Spectrum Kid's Gym they take the worry out of your decision for you. You will not find programs that intimidate children of lesser abilities, or ones that segregate children who want to play together, instead you will find a fun, enticing, inclusive environment full of awesome equipment meant to help children grow and learn while they play and use up the energy we all know kids have that we as adults wish we had much of the time.
We Rock The Spectrum Kid's Gym is the perfect place to take your children to grow and improve their skills and fitness level. As a leading kids fitness gym their programs, staff, and equipment ensures children are able to continually develop their strength and skills through the use of large gym equipment such as the trampoline, climbing structures and zip lines. They will be able to develop their fine motor and sensory skills by using the many smaller toys and games that are aimed at decision making and improvement of smaller motions that are just as important to develop as the larger movements.
The facilities offered by We Rock The Spectrum Kid's Gym is truly second to none and allows parents a great place to take their children for play and development.